Transitional Housing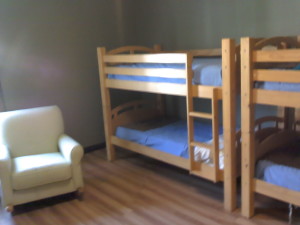 If you are in need of housing, please call our office: 410-275-2194
Clairvaux Farm is a 20-acre facility with a central dining hall with a professional kitchen, chapel, and office building.  There is a playground for children, a communal garden and a pavilion.  We are located in Earleville, MD, approximately 15 miles south of Elkton, MD and 15 miles west of Middletown, DE.
We have ten apartments available for families with children who are experiencing homelessness.  We can house up to 36 people at any given time and are usually at full capacity.  Most of our families are from southern Cecil County, MD, northern Kent County, MD and southern New Castle County, DE.
In addition, we have a few private apartments available for long-term, full-time, live-in volunteers.
Questions about availability, wait list and entry for the housing program should be directed to our office: 410-275-2194.
If you are in western Cecil County or in Harford County and in need of assistance, we suggest you approach Harford Family House.  Another resource for those in Harford County is the Welcome One Emergency Shelter in Belcamp.
Alternatively, St. Martin's Ministries is another organization that provides transitional housing for women with children.  It is located in Ridgely, MD and may appeal to those living on the Mid-Shore or Lower Eastern Shore.
Haven Ministries provides transitional housing for those in Queen Anne's County.
Talbot Interfaith Shelter provides assistance for those in Talbot County.
Family Promise provides help and transitional housing for those in northern New Castle County.
For those in the Dover, Delaware area, Shepherd Place provides transitional housing and support for women with children.
We regret that we cannot house individuals without children.  If you are an individual or couple without children and in need of shelter, we suggest you contact the following organizations:
Friendship House (New Castle County, Delaware)
Meeting Ground (Cecil County, MD)
Paris Foundation (Cecil County, MD)
Ray of Hope (Cecil County, MD)
Samaritan Group (Kent County, MD)