Count Your Blessings Exchange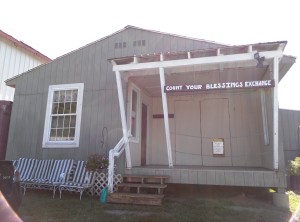 Open every Saturday from 9AM to 12PM.
Count Your Blessing Exchange is full of excellent quality gently used items including:
Children's clothing of all sizes, boys and girls, along with clothing for women and men

Toys

Books — for children, youth and adults

Household items including dishes, cooking utensils, pots & pans, pictures, small appliances and more

Bedding and blankets, towels and other linens
There is no charge for anything. Those who come are asked to take as much as they need, but no more than what they can use for their families.