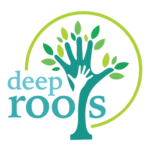 What We Do
Deep Roots is a project, not just of teaching children and youth how to fish, but of making the pond itself accessible for them—opening the gates of possibility and potential. The intent of the project is to draw children and youth who are experiencing disconnection and homelessness into a vibrant, ongoing community of persons with varied experiences.  We do this through two mutually reinforcing approaches:
1)      Fellowship and Learning.  We sponsor a group activity every month for children, their families, mentors, volunteers and other interested individuals to come together in a structured and friendly learning environment.  As part of this effort, we strive to provide a variety of experiences ranging from a visit to the seaside at Ocean City, Maryland to a hands-on activity at a Community Supported Agriculture (CSA) Farm in Rising Sun, Maryland to paddling Turner's Creek in Kennedyville, Maryland.  Participants include those currently resident at Clairvaux Farm as well as those who previously resided at the Farm but have moved on.
2)      Stable and Safe Transitional Housing.  We provide private apartments for 12 families with children at Clairvaux Farm.  This provides families with an opportunity to breathe and focus on achieving their self-determined goals whether that is finding a job, securing affordable housing, addressing substance abuse and / or relationship issues, among other objectives.