Below is our schedule of holiday events and service for the families of our community experiencing homelessness or otherwise in need. We welcome your participation in any of these activities and programs, or just to come and be part of the fellowship! Please call the office for more information.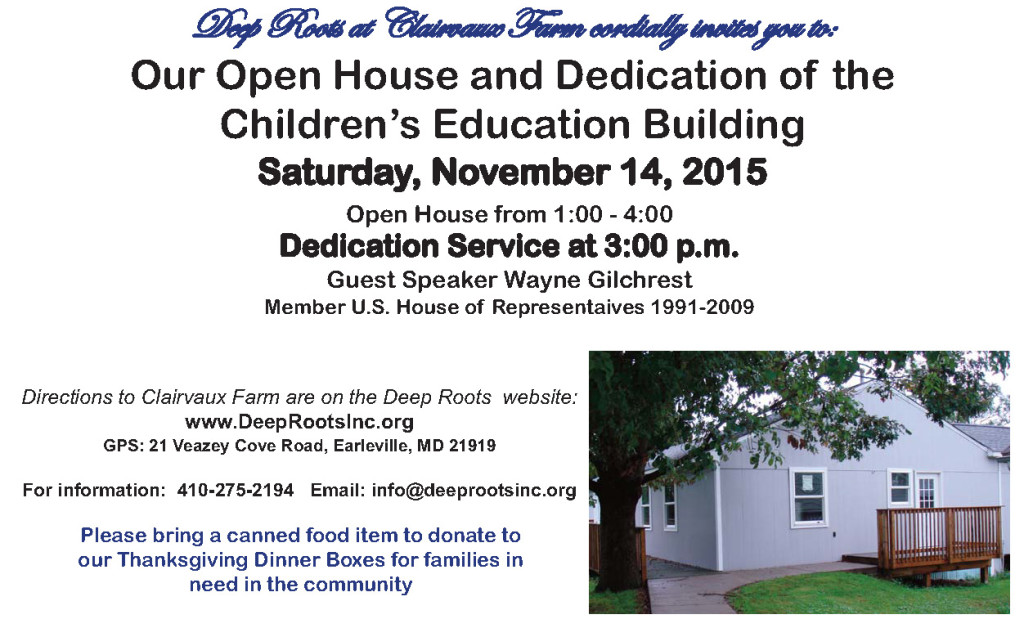 • November 14th – Open House and Dedication of Children's Educational Building will be from 1 pm to 4 pm with the Dedication Service at 3 pm. Our speaker for the Dedication is Wayne Gilchrest, Member of the U.S. House of Representatives from 1991-2009. Please bring a canned food item for Thanksgiving Baskets. [Donations needed for thanksgiving baskets: Turkeys, cranberry sauce, potatoes (instant or real), canned goods, stuffing, dessert, etc.] Please come to see the remarkable progress we have made on the entire facility over the summer.
• November 23rd – Pick-up and delivery of Thanksgiving baskets for families in need in the community. Drivers are very much needed.
• November 26th – Thanksgiving Dinner at Clairvaux Farm from 2 pm to 4 pm – all from the community are welcome! All meals served at Clairvaux Farm, every day, are open for anyone to come.
• Christmas adopt a family – We currently have 12 families on the farm, and 8 families that have moved into permanent housing this year. In addition we are receiving a number of calls for assistance from families in the community. Please contact the Clairvaux Farm office if you are interested in learning more.
• December 19th – Deep Roots' Christmas Event for the Children, 11 am to 4 pm at Clairvaux Farm. (Each month, year round, Deep Roots has an educational or fellowship event for the children.)
• Christmas Eve Service, 4:00 pm in the Chapel at Clairvaux Farm.
• Christmas Day Dinner at Clairvaux Farm from 2 pm to 4 pm – all from the community are welcome!
• New Year's Day Service in the chapel (time to be announced)