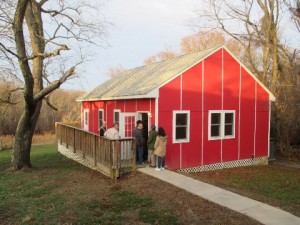 Dear Friends of Deep Roots at Clairvaux Farm:
New Year's Day is significant for us because it marks the first complete year that Deep Roots has had its home at Clairvaux Farm. On January 1 of 2014 we celebrated the re-opening of Clairvaux Farm with a Worship Service in the chapel – a celebration of the wonder that together we were able to find a way to something very beautiful and hopeful, especially for families with children who are experiencing homelessness. Together we have had an amazing year of building and development, and as we enter 2015 we are poised for continued and rapid growth.
On the eve of this New Year we send you all, friends and supporters, our warmest gratitude for keeping faith and standing tall together to make the miracle of Clairvaux Farm continue to blossom. We need and covet your ongoing support and we welcome your continuing involvement in the coming year. The African Proverb describes our accomplishment so well: "if you want to go fast, go alone. If you want to go far, go together." Indeed, how far we have come together. Thank you.
You are cordially invited to a brief Service of Celebration for all that has been accomplished in the past year on: THURSDAY, JANUARY 1, 2015 (New Year's Day) at 7:00 pm in the Chapel at Clairvaux Farm. This is an opportunity for all to express our gratitude together. Please come if you can.
Blessing and thanks to all.